Warning
: Undefined array key "banner_ad_width" in
/home/u710754889/domains/freshfounder.com/public_html/wp-content/plugins/quick-adsense-reloaded/includes/render-ad-functions.php
on line
360
Warning
: Undefined array key "image_width" in
/home/u710754889/domains/freshfounder.com/public_html/wp-content/plugins/quick-adsense-reloaded/includes/render-ad-functions.php
on line
360
Warning
: Undefined array key "banner_ad_height" in
/home/u710754889/domains/freshfounder.com/public_html/wp-content/plugins/quick-adsense-reloaded/includes/render-ad-functions.php
on line
361
Warning
: Undefined array key "image_height" in
/home/u710754889/domains/freshfounder.com/public_html/wp-content/plugins/quick-adsense-reloaded/includes/render-ad-functions.php
on line
361
Warning
: Undefined array key "banner_ad_width" in
/home/u710754889/domains/freshfounder.com/public_html/wp-content/plugins/quick-adsense-reloaded/includes/render-ad-functions.php
on line
360
Warning
: Undefined array key "banner_ad_height" in
/home/u710754889/domains/freshfounder.com/public_html/wp-content/plugins/quick-adsense-reloaded/includes/render-ad-functions.php
on line
361
When we talk about Browsers then Chrome is 1st that comes to mind (always!), but Bave has now come in competition, yes it is an all-new Browser in the market with features which you cant find on Chrome & war has begun so let's see which one wins & who stands alone in Chrome vs Brave Browser Comparison, Which one is Better?
---
Both browsers come with their own identity and have different functioning but the same base still features, interface, speed, optimization of Brave is far better than Chrome. Brave vs Chrome competition just relies on which one you should choose and why also comparing chrome vs brave have only the motive to explain you best Browser between both.
Chrome has been everyone's favourite and default browser for Android users and mostly for Windows users as well, but the level of performance which Brave is providing and marketing strategies that it has held is commendable. We tried it ourselves so we can conclude if the claims are right or wrong. We tested Brave for 2 weeks leaving Chrome for a side, majorly we liked almost everything there (what?, how? why?) is what we discuss here.
Chrome vs Brave Browser Comparison in Detail, Which is the best Browser?
The Biggest Difference between Brave vs Chrome Browser are Speed, Loading time, inbuilt AD Blocker, Privacy leader, Integrated Tor Compatibility, Reward Points (Free BATs), Chrome compatible Extensions, etc.
To discuss further I have divided the Pointers for a better understanding between two and at the end, I try to give my suggestions over comparison of Chrome vs Brave browser.
Competition between Brave vs Chrome is fair as one is the Brower's leader and second is the Fresher made on the same chromium base.
Which one is Lighter and Faster? -Chrome vs Brave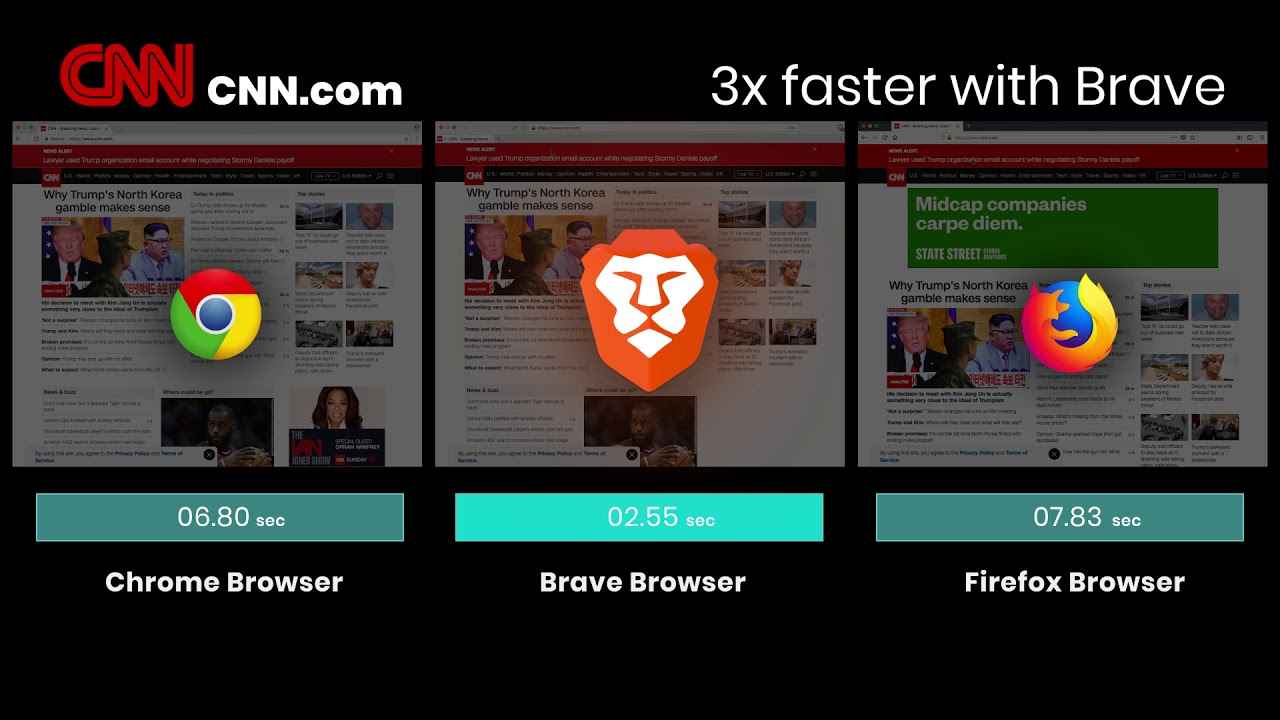 Chrome's setup size is 1.8MB but Brave's size is 1.24MB. Chrome is a RAM sucker, not I am saying this but many experts (Verge, Slant, etc) after a lot of diagnoses which turns system slow under multitasking says this.
Brave loads only those files which are necessary to be loaded including JS, HTML and CSS for that particular time & not like Chrome which loads the whole website one single time and creates chaos.
(Even YouTube Videos Buffers really Fast without ADS on Brave)
"Load pages 2x faster on desktop and up to 8x faster on mobile."- Brave
This feature can have Advantages and Disadvantages, a very few times Brave may not load some needed elements coz of this feature where Chome will, so both get equality here. (+1B/+1C)
Privacy is the Key of Brave Browser?
Brave uses a Non-Tracking technology when someone uses the browser, as mentioned, Brave has 2 kinds of Private Tab options, one is a simple Private Browser tab where other is its Tor Private Tab option.
Tor partnership with Brave provides a higher level of security and privacy while browsing on a private tab, these security audits are missed in Chrome as it stores everything on its Database.
– it stays privat, on your device, until you delete it. Which means we won't ever sell your data to third parties. (+1B)
Why Brave over Chrome in Security?
Unlike Chrome which Stores Location, Logins, History, etc., Brave never stores it. Brave automatically upgrades to HTTPS for secure, encrypted communications where any normal browser would use an insecure connection of http only.
Also every Download, Bookmarks stored pages & everything is secured in an encrypted way with no access to Brave. (+1B)
InBuilt AD Blocker in Brave:
Yes, Brave comes with an Inbuilt AD Blocker without the need for extra extensions. This makes a plus point for users but a minus point for Content creators as their Revenue cut down through this.
So here at this point, it comes to my eaning as well, No ADS means no revenue, still point goes to brave. (+1B)
Chrome Extensions on Brave Browser-
If you love Extensions then Congrats, Brave supports all those Extensions which are supported by Chrome, it has Chrome Web Store where you can find everything just like Chrome without any sacrifices, but it's not guaranteed that it supports each n every extension, still covers most of them.
Platform Availability?
Android//IOS it's supported by both, PC and Mobile. Menas you can use Brave and Chrome both on iOS, Windows, Mac, Android easily.
Brave SheildUP for Websites
Brave gives you access through which you can control Security meter, by default it Blocks 3rd Party Trackers, Upgrades HTTPS, Block Device Recognition, etc.
This means that here you can many things if you want such as ADs, Block Java Scripts on your Browser, cookies, cache, etc.
Brave Supports Crypto!
There's also one thing called Brave Rewards (BAT) which is a CryptoCurrency, not even but Brave itself supports Bitcoin, Etherium, Doge, etc. Crypto platforms by defalt and also a big supporter of Crypto system.
One can use Brave browser for Crypto trading, investment or any work they need.
How to Earn Free BAT from Brave Browser-
Create Account on Brave

Signin with the account on Brave

Click on BAT collection from top right corner

After accepting all formalities, turn on your  waller token collection

Now start browing and your BAT token will be collected in the wallet which you can Claim or send to your Wallet.
Brave provides token to users in against of AD blicking, you can get token for using Brave which can be claimed for free and can be stored as well in digital wallets. Yes, rate of conversion is low but getting free BAT Crypto tokens is also not bad just while browsing.
Conclusion- WINNER?
I am personally using it as my regular Browser with ADs Enabled because I value every creator's work and respect their Earnings, and it's been more than 2 months, without a doubt it is one of the fastest browser you have can experience over Chrome. Brave browser perform much better and continuously getting more advanced.
I also suggest trying Microsoft Edge which is also based on Chromium but better than Chrome, there's no functionalities like Brave but you can try if you like replacing Chrome browser.
The similarity is that on both you can change Themes on Chrome, Brave and Microsoft Edge, can use Extensions, Sign in with Google Acc.
Download Link for Brave is here– https://brave.com/
Thanks for Reading. (not Sponsored)