This post was most recently updated on September 29th, 2020
Between the Internet, there's Browser War first as the Internet can be only Run through a Browser but Browsers like Google Chrome are RAM suckers and slows down the whole process, so we brought you Chrome vs Brave Browser to know which is best.
---
Biggest Difference between Brave vs Chrome Browser is its Speed Loading time, features like inbuilt AD Blocker, Privacy leader, Integrated Tor Compatibility, Extensions, etc.
Does Brave Browser is so brave to give competition to its competitors like Google Chrome, Opera, Firefox, etc.?
To discuss further I have divided the Pointers for a better understanding between two and at the end, I try to give my suggestions.
Competition between Brave vs Chrome is fair as one is the Brower leader and second is the Fresher made on the same base.
Which one is Lighter (Chrome vs Brave Browser)?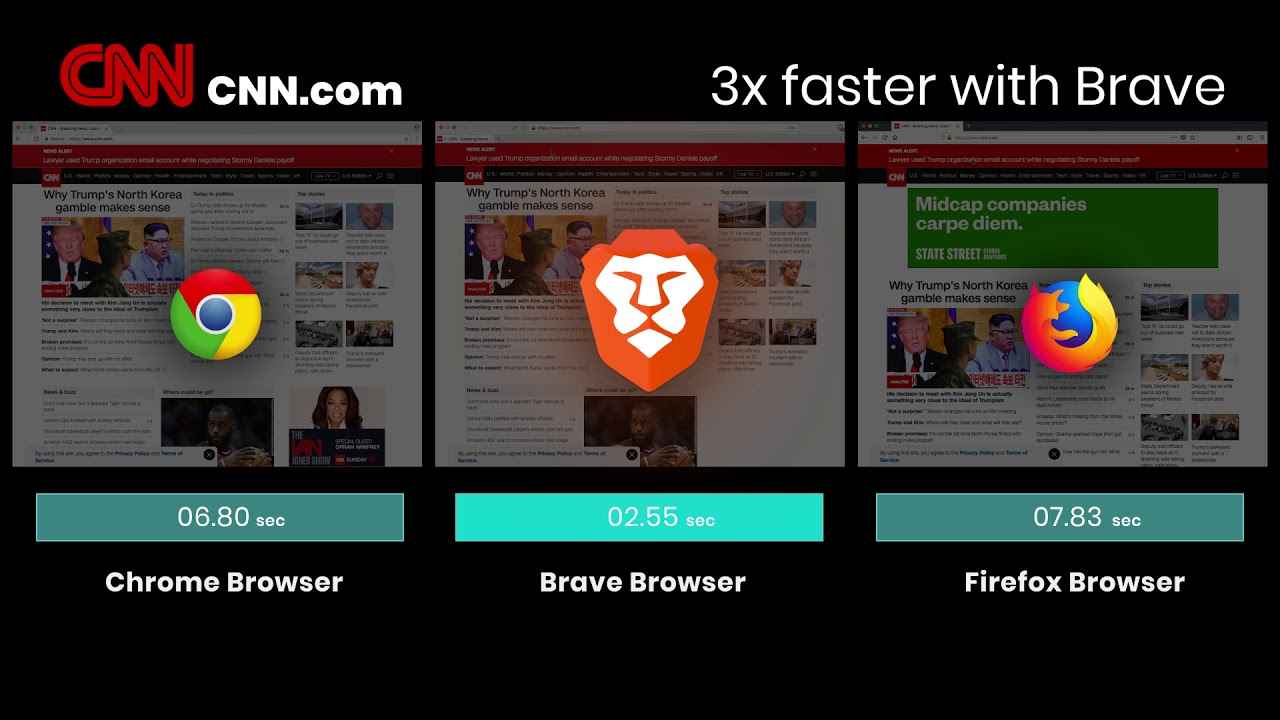 Chrome's setup size is 1.8MB but Brave's size is 1.24MB, it doesn't make Chrome win as when Chrome is opened so it becomes a RAM sucker..now that's not my point of view only, its of many experts (Verge, Slant, etc) after a lot of diagnoses which turns system slow under multitasking (which 1 never wants). (+1B)
Which has Faster Loading Speed (Brave vs Chrome)?
The clear answer is Brave Browser as it loads faster and loads only needed Java Scripts for the page to be seen not like Chrome which loads every Java Script.
(Even YouTube Videos Buffers Fast like thunder without ADS)
"Load pages 2x faster on desktop and up to 8x faster on mobile."- Brave(+1B)
This feature can have Advantages n Disadvantages both, a very few times Brave may not load some needed elements coz of this feature where Chome will, so both get equality here. (+1B/+1C)
Privacy is the Key of Brave Browser?
Brave uses a Non-Tracking technology when someone uses the browser, as mentioned Brave has 2 kinds Private Tab options, one is simple Private Browser tab where second is its Tor Private Tab option. Tor itself stands for Anonymously if you are familiar with it, these security audits are missed in Chrome as it stores everything on its Database.
– it stays private, on your devices, until you delete it. Which means we won't ever sell your data to third parties. (+1B)
Brave is more Secure?
Unlike Chrome which Stores Location, Logins, History, etc. Brave never stores it which enables worry-free surf, plus whenever possible, Brave automatically upgrades to HTTPS for secure, encrypted communications when an ordinary browser would use an insecure connection.
Also every Download, Bookmarks stored pages & everything is secured in an encrypted way with no access to Brave. (+1B)
InBuilt AD Blocker with Brave!
Yes, Brave comes with Inbuilt AD Blocker without any need of extra Messi extensions. This makes a plus point for users but a minus point for Content creators as their Revenue cut down through this.
So here at this point, it comes on my wellness as well, No ADS means no revenue :(, still giving (+1B) as users point.
Chrome Extensions comes to Brave Browser…
If you love Extensions then Congrats, Brave supports all those Extensions which are supported by Chrome, it has Chrome Web Store where you can find everything just like Chrome without any sacrifices, but it's not guaranteed that it supports each n every extension but covers most out of it. (+1B)
Platform Availability?
Android//IOS it's supported by both + PC, therefore, no issues whats in your Hand right now to Switch. (+1B/+C)
Brave SheildUP for Site…
Brave gives you access through which you can control Security meter, by default it Blocks 3rd Party Trackers, Upgrades HTTPS, Block Device Recognition, etc.
This means that here you can control if you want ADs or not, want to Block Java Scripts on your Browser n more. (+1B)
Brave Supports Crypto!
There's also one thing called Brave Rewards (BAT) which is a kinda CryptoCurrency, not even this Brave itself supports Bitcoin, Etherium.(+1B)
Conclusion
Talk about -B Points vs -C Points, then Brave is the clear Winner with some disadvantages but more advantages.
Brave Points- 10 > Chrome Points- 2, so unfair 😛
I am personally using it as my regular Browser with ADs Enables because I value every creator's work and respect their Earnings.
The similarity is that on both you can change Themes, can use Extensions & have to Sign I with Google Device only, if you wanna Try Now then Download Link – https://brave.com/
Google Chrome- https://www.google.com/chrome/
Thanks for Reading.